COFFINS – THE OTHER SIDE OF BLASPHEMY 2LP (Enucleation Records)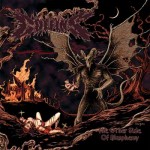 A lot of Death Metal is run of the mill, but this album from 2006 is truly immense. The 2LP version reviewed here contains a couple of bonus tracks and the classic artwork really comes to life in the 12×12 format, so these records are worth hunting down. Not to mention the amazing sound of DM on vinyl…
Death metal was capably represented by some high-profile releases from big hitters like Suffocation, Incantation, Cannibal Corpse and an ailing Decide in 2006, while Cattle Decapitation and Skinless also stepped up to the mark with career bests and a whole plethora of other DM combos made it a year to remember. But dwelling largely under the radar and without question the most accomplished DM release of that calendar year was 'The Other Side of Blasphemy', an extraordinary second full-length from Japanese entity Coffins.
Fronted by guitarist/vocalist Uchino and also featuring none other than You himself on drums as well as bassist Koreeda, Coffins produce pure unadulterated Autopsy worship with nods also to innovators like Carnage, Grave and even – to a lesser extent – Celtic Frost. The follow-up to 'Mortuary In Darkness' contains around 50 minutes (if you have the records) of downtuned, old style guttural death, with deep, undead vocals emanating directly from a sewer supplementing a blissful plodding riff-fest the likes of which we hardly ever hear anymore. A refreshing blast from the past.
Also released on CD by 20 Buck Spin in the States and Imperium Productions in Europe, this one really takes me back in time, on a glorious journey that re-awakens long-forgotten stirrings, reminding me of bands like Banished but more notably of the mighty gore grandmasters themselves – Autopsy. For an outstanding retro DM experience, look no further than 'The Other Side of Blasphemy'. This is an unheralded gem and it kicks the mortified asses of The Ravenous and Necrophagia to name but two. Damn, it even gives Abscess themselves a run for their festered money. Cult and worth every fucking cent.
Evilometer: 555/666