THRONE OF KATARSIS – THE THREE TRANSCENDENTAL KEYS LP (Blut & Eisen Productions)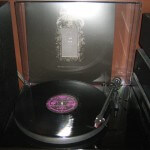 A bit of pointless review here but, fuck it, I'll do it anyway. The sheer and abundant quality of Throne Of Katarsis knows no bounds and on their fourth full-length, 'The Three Transcendental Keys', the Norwegians once more deliver a monumental work of art. There are three (doh!) lengthy rituals on this record, the third an epic spell of malevolence running for over 20 minutes and taking up the entirety of Side B.
The record sleeve is unique, with a little peephole cut into it, and a 12-inch booklet is included with lyrics to two of the three offerings (no idea why there are none printed for the opening song). There's an incredibly evil atmosphere permeating this album and it succeeds magnificently in keeping the true Black Metal flame burning with malice, even when venturing unexpectedly into Fell Voices territory at the beginning of the second key.
In short, this is another astonishing contribution from an awesome entity. If you consider yourself a Black Metal fan (if not, get the fuck off my website!), do not miss out on the wondrous, exquisite journey that is 'The Three Transcendental Keys'. Get it on vinyl if you can – why support Candlelight?
Evilometer: 666/666