THY SEPULCHRAL MOON – INDIGNANT FORCE OF GREAT MALEVOLENCE LP (Signal Rex)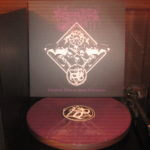 Regurgitating the foul, fetid filth from their little-known 'Incantations Inciting Demise' and 'Contemptuous Retaliation Storm' offensives (as well as covers of Von and Beherit plus three demo cuts), 'Indignant Force Of Great Malevolence' is a 35-minute stagnant pool of noxious-to-the-core Black / Death (but not as we know it…), complete with hideous, poisonous dual vocals and the most malevolent intent.
The gurgled noise emitted by this unnamed trio from South Korea and Canada is about as raw, odious and downright indignant as one could wish to hear, like TSM are literally vomiting their contempt for the world through the speakers. Their disdain is well placed because this planet really is a steaming cesspit overflowing with human slurry.
Evilometer: 666/666