TOTENBURG / MENNESKERHAT – WAFFENBRÜDER LP (Nebelfee Klangwerke)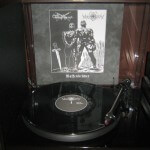 This is the vinyl version of a split album originally released in 2006. The record also includes a bonus 7" EP with two additional Totenburg songs. Regarding the worldview and mindset of the participants (which probably manifests itself in the lyrics but who knows?): politics don't interest me; all politics are bad.
Musically, there's some great Black Metal to be found on 'Waffenbrüder', which clocks in at over one hour thanks to the additional EP.
Menneskerhat has imploded since this was unleashed and this is a pity because their contributions to 'Waffenbrüder' are more than adequate. Quality-wise, Totenburg's material  is (perhaps) slightly more enjoyable … but this isn't a contest.
I don't really feel like saying much more about this one. Chances are that – due to the unpalatable nature of the bands involved – you'll already have made your mind up whether to investigate further or not.
Evilometer: 555/666