TSJUDER – ANTILIV 2LP (Season Of Mist)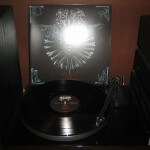 This one comes in a gatefold sleeve with a nice booklet included and the records are pressed at 45rpm to maximise the sound quality. Two tracks on each side; 20 minutes on the first record, 26 on the second.
The label has done a decent job with the double LP but why they need to release a million different editions is beyond me. (Well, not really.)
Anyhow, Tsjuder does what Tsjuder does: straight-out, no-holds-barred, traditional Norwegian Black Metal done the old way and with abundant competence. It's very hard to find any fault with this album, even though it doesn't stick in my head or move me in any real way. When I lay awake at nights, it is not 'Antiliv' that I dwell upon.
At the end of the day, it's just another quality Black Metal record and far be it from me to take issue with that. (Apologies for the crap pic.)
Evilometer: 555/666