ABYSSAL – ANTIKATASTASEIS 2LP (Iron Bonehead Productions)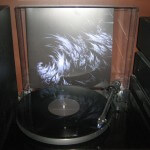 Abyssal's soaring third full-length, 'Antikatastaseis', represents a magnificent accomplishment for this lone soul from the UK. Touched by genius, it rumbles along for almost an hour, with the seven generous helpings spread out evenly across all four sides of a noble double-vinyl edition, which is in turn contained within a sumptuous gatefold sleeve and also boasts an insert with lyrics.
To me, it is quite extraordinary that an album of this scope, complexity and sheer brilliance can be the fruit of one man's labour. For an individual to conceive and execute such a wondrous tome is simply amazing; the label has then come in and done a great job in bringing that vision to the level it merits, aesthetically. Records of such quality leave me on a serious high.
Awesome.
Evilometer: 666/666