NOCTURNAL BLOOD – ABNORMALITIES PREVAIL 2LP (Hells Headbangers Records)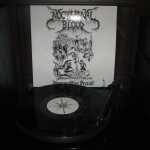 'Abnormalities Prevail' gathers most of Nocturnal Blood's recordings to date (outside of the 2010 full length, 'Devastated Graves – The Morbid Celebration') onto two slabs of black vinyl. That's 17 songs in total (not 20 – brief intros and outros don't count), recorded between '07 and '09.
The best material can be found on Side C – which is culled from the 'Imperial Impurity' split with Sanguis Imperem (sounding like Entombed in overdrive!) – but all in all this is an excellent collection of underground art committed to analogue by the sole entity known as Ghastly Apparition and presented here in a fetching gatefold jacket.
Wonderful one-man Death Metal, loaded with integrity and spirit.
Evilometer: 555/666