ULTHAR – PROVIDENCE (20 Buck Spin)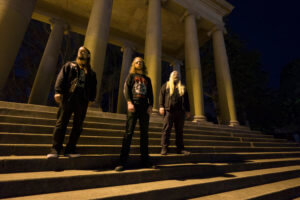 Ulthar's sophomore full-length, 'Providence', grabs attention quickly with the short-but-not-so-sweet 'Churn' delivering some intelligent and instantly-likeable gory Death Metal with old school leanings. Next in line, 'Undying Spear' is more diverse, varied and experimental, proceedings now blackened, the experienced trio behind this talented US entity demonstrating excellent song-writing capabilities alongside precise, blistering execution.
As well as the core metal instruments, Ulthar also sparingly incorporate samples, synth and electronics into their work, adding extra depth and layers to the blazing guitars, ferocious dual vocals and unrestrained drumming. There are clear similarities to Vastum, with whom a member is shared, but the inclusion of some Black Metal elements renders 'Providence' less direct and more dynamic.
Yet, in its own right, this is still a brutal and heavy album, the more melodic passages serving to accentuate the harsher moments, the sometimes-particularly-fierce vocals strangely reminiscent of those legends of yore, Atheist. Absurd and obscure, the lyrics are fairly abstract and thought-provoking, yet gruesome at the same time and this adds a degree of intrigue.
There are eight songs in total and, over the course of almost 37 minutes, Ulthar prove themselves as fully paid-up members of the ever-increasing Death / Black cross-pollination society. All in all, this is a solid slab of blackened Death Metal, with pace and mood changes aplenty and even a touch of doom thrown into the mix for good measure.
Evilometer: 555/666