UNDERGANG – MISANTROPOLOGI LP (Me Saco Un Ojo Records)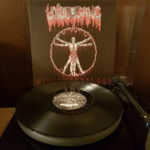 'Misantropologi' is the fourth rancid full-length from spiteful Danish trio Undergang and it's a monstrous full-length that's received countless rotations on the deck of death. Though brief at just 29 minutes (counting the 30 seconds it requires me to flip the record over), this is a catchy, memorable slab of putrid Death Metal that certainly makes a lasting impression.
The lyrics are in a language that's foreign to me so I'm at a loss as to the precise nature of the unpleasantness to hand, though it's clearly not nice stuff. Great Death Metal here, performed with style and authority. As good as it gets.
Evilometer: 666/666