XAOS OBLIVION – RITUALS FROM THE COLD GRAVE LP (Lower Silesian Stronghold / Heidenwut Productions)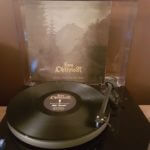 In the true spirit of obscure underground Black Metal, Xaos Oblivion has operated for a decade under the cover of night, undetected, obfuscated.
Unheralded and unhyped, this Polish entity unleashed five relatively-unknown full-lengths to date and I believe 'Rituals From The Cold Grave' was the first to feature more than one member.
I've appreciated this album since it was released a few years back, so I was pleased to see it emerge on vinyl. Great ancient, mystical Black Metal that reminds me quite a lot of classic Mayhem.
The record includes an insert with most of the lyrics.  My copy also boasts a deep scratch at the start of Side A, but such is the risk inherent in purchasing this format.
The eponymous Xaos Oblivion (AKA Kamil) is also the vocalist in Aryman, another exceptional Polish horde worth investigating.
Evilometer: 666/666