UPON THE ALTAR – ABSID AB ORDINE LUMINIS (Putrid Cult)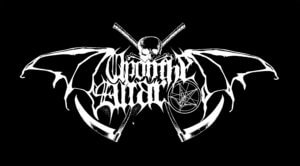 Billowing forth from Lesser Poland with a blistering blitzkrieg of Black / Death Metal, Upon The Altar issue a devastating statement of intent on their ravenous debut full-length, 'Absid Ab Ordine Luminis' – 36 minutes of merciless chaos in the vein of hybrid luminaries such as Teitanblood, Vassafor, Diocletian and a lengthy list of others. Sacrificing originality in favour of barbarism, bestiality and bloodlust, Upon The Altar have crafted a potent, high-octane offering packed with passion, energy and hatred, of course.
Death awaits at every turn, smoke-filled lungs struggling to recycle the toxic air, the acrid plumes, crimson hues and sonic annihilation of the battlefield dominating the senses, terror and ecstasy abounding in that twilight before the lights are snuffed out forever. The pulverising opening triptych of 'Crown Of Weakness', 'Wolves Of Napalm' and 'Expire' mercilessly lays you low as the war-mongering fervour of Upon The Altar takes no prisoners, the frenzied onslaught unrelenting and overwhelming.
The riffing is ominous and provocative, accompanied by deviant gargled, bleeding-throated shrieks and bellows, hammered drums nailing down the coffin lid. Amid the maelstrom of malevolence, however, the Polish trio inject subtle flashes of light to keep proceedings interesting / bearable and lure the victim into a false sense of security before the attack resumes.
The excellence of Upon The Altar is epitomised best by 'Mortuus Est Rex', the eight-minute centrepiece of 'Absid Ab Ordine Luminis', which showcases both the band's brutality and compositional prowess. Though crushing, each track is also hypnotic and infectious, resulting in an album that captures and hold the listener's attention from start to finish.
Evilometer: 555/666