VOTHANA – CHÍNH SÁCH VŨ LỰC TÀN BẠO 2LP (Final Agony Records / Darker Than Black Records)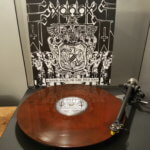 Originally self-released on cassette 15 years ago, with the addendum 'Demo III', Vothana's 48-minute meisterwerk of radical, non-conformist Black Metal, 'Chính Sách Vũ Lực Tàn Bạo', has been given a fitting vinyl upgrade by Final Agony Records in conspiracy with Darker Than Black Records. Staying true to its glorious analog origins, this spectacular offering of traditional Black Metal comprises six tracks in total, three of the epic variety and a much shorter, four-minute entreaty at the start of Side C ('Tiệng Hô Xuất Trận'), all buttressed by an intro.
Fury, contempt and indignation spill like a feverish bloodletting from every second of the eleven-minute 'Tuyên Chiền Vỏi Đo Thái', Vothana's unique strain of powerful Black Metal performed with unswerving contempt, harsh and unapologetic yet with a devilish sense of melody providing a keen counterpoint to the inherent, unhinged rawness
Ominous and war-mongering, the longest track, 'Chiền Thắng La Đạo', takes up all of Side B, more than a quarter-of-an-hour of intoxicating, harsh and unforgiving malice, propelled onwards by pride, hatred and resentment, Christianity and the Jewish plague never far from Vothana's crosshairs. A fist in the face of commercial, modern, sanitised, bastardised, social-media-friendly Black Metal, Vothana's crude and intolerant music is raw and raucous, an antidote in some respects to the epidemic of political correctness, censorship and stripping away of personal freedoms sweeping the planet.
Drunk on raucous belligerence and intolerance, sole member Lord Nebulah specialises in crafting shrill and lo-fi analogue aversion, nevertheless majestic and uplifting, soaring with a misanthropic spirit of independence. All song titles and lyrics are composed in his native Vietnamese and a feeling of patriotism and nationalism is always close to the surface. Maximising the impact, the labels have done an exquisite job with this noble vinyl edition, the two records – which look and sound fantastic – housed within a strong and attractive gatefold jacket to complete a wonderful package of pure unrestrained, undiluted, underground Black Metal hatred.
Evilometer: 666/666