WROK – DE ONHEILSBODE LP (Heidens Hart Records)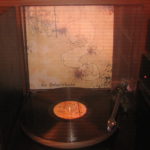 Apologies for this one but there have been many times of late when I listened to Wrok around the clock. 'De Onheilsbode' is the Dutch duo's debut full-length, their only prior releases being some long-forgotten demos from around 20 years ago.
There's 50 minutes of primitive, ancient-sounding Satanic Black Metal on here, delivered with enthusiasm, passion and intent embellished greatly by a unique but very authentic sound. Truly excellent, nasty stuff.
As well as sounding superb, the record is also tastefully presented (kudos to a wonderful label), so this is a major winner all around. Another exceptional release from the tarnished lowlands.
Evilometer: 666/666