THANTIFAXATH – VOID MASQUERADING AS MATTER MLP (Dark Descent Records)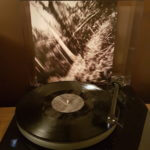 I think it would be accurate to suggest that Thantifaxath is not your everyday Black Metal band. The anonymous Canadian trio certainly go down the left hand path less trodden when it comes to constructing music and debut full-length 'Sacred White Noise' was a cacophonous slab of chaotic dissonance delivered to the ear canal with utter abandon.
Mesmeric follow-up 'Void Masquerading As Matter' emerged towards the death throes of 2017 and, although it's listed as a mini-album, it's quite substantial at 36 minutes. Four lengthy songs of intelligent, varied, ambitious and always interesting dark art. A fantastic listen and definitely worthy of the overused 'eclectic' adjective.
An innovative concoction of everything bar the cabin sink. Not mad about the fourth offering, though. It is a bit of a stinker.
Evilometer: 555/666