XOTHIST – XOTHIST LP (Fallen Empire Records)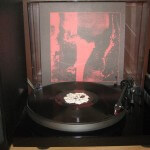 Xothist's excellent ('A Binding') contribution to the fantastic Svn Okklt double cassette more than whet my appetite for this thoroughly unorthodox Colorado one-man entity. When the label behind that treat, Fallen Empire, announced plans to reissue this self-titled debut demo on vinyl format, I was always going to check it out. It was just a matter really of where and when I was going to source the record…
To cut a very long story short, I now have possession of four LPs from this impressive, fledgling US label and 'Xothist' was the first one to take its place on my deck of doom. Originally released on painfully-limited cassette in 2011, the two lengthy tracks (clocking precisely 20:48 apiece) have been remastered especially for this black wax edition. But don't be expecting some shiny, polished production. Oh no, this is still very much of the underground.
Analogue to the core, 'Xothist' comprises some of the most interesting music to have crossed my ears in quite a long time. In an era of so much same-sounding drivel, these songs truly stand out from the pack, boasting a strong identity of their own.
Of course, a healthy dose of Black Metal has been injected into the hybrid, but this is supplemented by a smorgasbord of ambient and electronic sounds, which adds a delightful dose of dynamic to proceedings. The Black Metal quotient can be very chaotic, harsh and wobbly at times (placing great stress on my speakers, truth to tell) and the more restrained moments act as the perfect counterpoint to this monstrous maelstrom.
But somehow the music flows seamlessly throughout and is always menacing, threatening, foreboding and full of dread. Exceptional stuff; and not just because it is so unusual, so unique and so refreshing.
Evilometer: 666/666