LVCIFYRE – SVN EATER LP (Dark Descent Records)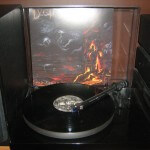 Lvcifyre's 'Svn Eater' isn't a new record but it's one I missed first time around somehow and only got around to purchasing in the middle of last year. I'm giving it a quick mention here because I've been bingeing on it tonight – along with Adversarial, Osculum Infame (which I grabbed on vinyl and enjoy immensely), Revenge and Grave Miasma – and it's a really great LP.
In the unlikely event of you not already being familiar with this potent cocktail of chamber-dwelling Black Metal and Death Metal, complete with guest vocals from Mark of the Devil (Cultes Des Ghoules), then you ought to check it out. Poster and booklet with lyrics included.
Evilometer: 555/666