ACHERONTAS – MA-ION (FORMULAS OF REPTILIAN UNIFICATION) 2LP (World Terror Committee)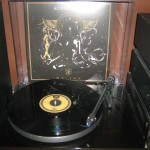 The wait for Acherontas' fifth full-length, 'Ma-IoN (Formulas Of Reptilian Unification)', to appear on vinyl was a long but ultimately fruitful one. Yet another glorious gatefold double-LP from the shamanic Greeks (containing a lovely full-sized booklet stapled to the jacket), this immense tome of tunes collates some 70-odd minutes of occult, esoteric, ritualistic Black Metal.
In many ways, this is Acherontas' masterpiece to date as it contains a great mixture of raw aggression and more tribal trancelike parts. They have honed their ambitious craft to near perfection to deliver an album that constitutes one of the most rewarding and enchanting listening experiences to fall under the BM banner.
Even though 'Therionic Transformation' makes me cringe and would have me lambasting a lesser band, all in all 'Ma-IoN (Formulas Of Reptilian Unification)' is a stunning success, elevated to an even higher level on black wax.
(By the way, I noticed on the record cover that the album might actually be called 'Ma-IoN (Formulæs Of Reptilian Unification), not that it makes much difference).
Evilometer: 666/666