SATURNIAN MIST – CHAOS MAGICK LP (Saturnal Records)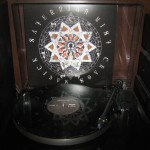 There's one song on 'Gnostikoi Ha-Shaitan' that completely ruins Saturnian Mist's debut full-length as a listening experience for me personally. But the preceding 'Repellings' MLP is wonderful and, thankfully, so is the Finns' thoroughy-enjoyable second album, 'Chaos Magick'.
Even though it's bursting with melodies and harmonies, this record remains suitably dark and evil, the myriad instrumentation on offer revealing a smorgasbord of occult, mystical Black Metal art. It reminds me a bit of when I used to listen to bands like Alghazanth and Thyrane back in the late '90s, but is much better. The record comes with a printed inner sleeve including all the words to the twelve spells featured.
My only gripe is that the 13th and final track from the CD edition ('Yoga, Hate, Fuck') didn't make it on here. I'm not sure if it was culled so that the album would fit onto one record (there's still 50 minutes of music) but I'd obviously prefer if the full-length in its entirety was delivered on black wax; perhaps a 2LP would have been better?
Evilometer: 555/666