XOTHIST – SIMULACRUM LP (Fallen Empire Records)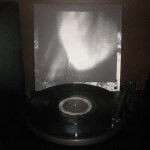 Xothist's debut full-length is extremely chaotic, inaccessible and unorthodox. If it's structure you seek in your music, then best to give 'Simulacrum' a wide berth. A barely-there but nigh-on-perfect production just about grants the listener access to a frenzied cauldron of swirling virulence; a real treat unfolds, somehow.
Like the stunning 'Xothist', this is another exceptionally off-the-wall but commendable dose of dissonant underground Black Metal with some welcome noise / drone / ambient accoutrements. A challenging but rewarding experience, all told.
Evilometer: 555/666