AZELISASSATH – TOTAL DESECRATION OF EXISTENCE LP (Nordisk Kultur)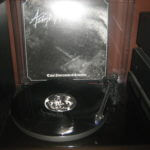 Azelisassath's third full-length, 'Total Desecration Of Existence', is more depressive content-wise than I recall the first two offerings ('In Total Contempt of All Life' and 'Evil Manifestations Against Mankind') being, but that's not necessarily a bad thing.
The song titles and lyrics rather overtly deal with suicide, nihilism and self-annihilation, nothingness, death and all manner of uplifting eventualities. So much better than Trolldom; hard to believe it's the same maniac. In fairness, most of Swartadauþuz' work is exceptionally good.
The music is raw-ish but with an insidious sense of keyboard-driven melody and plenty of upbeat atmosphere. But still dark as the devil's hole.
Evilometer: 666/666