BESTIA ARCANA – HOLÓKAUSTON LP (Dark Descent Records)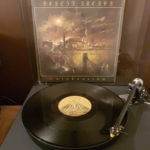 Bestia Arcana returned with another swirling, chaotic maelstrom of intangible, indecipherable, ferocious pitch black malevolence; four epic statements heralding an occult realm that I'll never, ever experience (?) or understand.
On the rare occasions that I read interviews with anybody related to Nightbringer or Bestia Arcana, I genuinely couldn't comprehend what the fuck they were talking about. Just big words and ideas flying right over my dumb skull.
Anyway, 'Holókauston' is an outstanding album, which surfaced on vinyl in January and is an at-times-difficult but rewarding listen. Fitting ambient passages provide a welcome counterpoint to the overwhelming aural violence and the precise, devilish drumming – revealed through a transparent production – elevates proceedings above and beyond.
Evilometer: 666/666