BLACK CILICE – OLD OATHS LP (Dead Section Records)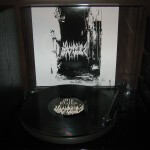 'Old Oaths' gathers nine ceremonies from assorted Black Cilice 7" records – mostly splits – that surfaced over the past five years and it's a collection that captures the rawest spirit of the Portuguese cellar-dweller.
There are times when the production is so non-existent and the whole thing so entirely unhinged, unbalanced and chaotic that I wonder am I insane for listening.
But the demented, devious charm of Black Cilice never fails to work its insidious spell on me and – even though it's disjointed and almost unpalatable at first – this is ultimately a superb record that should be acquired not just by completists but by anyone with an appreciation of the deepest underground.
Difficult but rewarding. Nicely presented, too.
Evilometer: 666/666