BLOOD TYRANT – NIGHT OF BLOOD MOON LP (Skjold)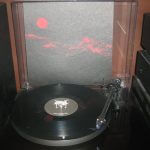 This is Blood Tyrant's eight-song 2016 demo reissued on vinyl (plus one bonus track). As is often the case with underground emissions, do not be deceived by the term 'demo'. 'Night Of Blood Moon' sounds a little low (Easy fix: turn the volume up) but, generally, has a sound quality befitting an album proper within this subgenre.
It's also excellent. And generous at over 30 minutes…
Not quite as stellar as 'Aristocracy Of Twilight', in my humble opinion, but nevertheless a pretty sensational presentation of prime, raw, organic Black Metal with that oft-elusive distant, ancient, eerie chill factor. Really nails down that authentic mood that so many others strive for but miss entirely.
Skjold out for now but guaranteed to be reissued sooner rather than later. Get it, then, if you haven't already.
Evilometer: 666/666