BLACK CILICE – BANISHED FROM TIME LP (Iron Bonehead Productions)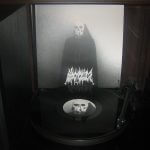 Every new Black Cilice record represents a truly seismic event in my living room and 'Banished From Time' is no different to its predecessors in this regard. Even though the previous three full-lengths were mandatory purchases and pretty much perfect in execution and tone, the Portuguese cellar-dweller does – rather remarkably – appear to be getting better with each passing emission.
It's like he's honing his craft, mastering the technique of hammering home his unique strain of depraved raw Black Metal pestilence and depravity in the most concise, potent and engaging manner possible. On 'Banished From Time', I hear an artist at the absolute peak of his creative power. While the music remains incredibly bleak, strained, nasty and deathly, the delivery is somehow more measured, more calculated, just better composed, constructed and (dare I say?) premeditated.
It still sounds essentially like a spontaneous outburst of violence and madness; and it remains patently of the underground, but the walls of the dank dungeon have been insulated a little better – perhaps with the bones of a thousand fools – and the unsettling chaos seeps through in a clearer and more accurate manner than ever before. A harrowing, repetitive, hypnotic mantra of death and surrender to the darkness, this album will take your pointless breath away.
Right now, Black Cilice is utterly lethal, more addictive than heroin, and catchier than the most contagious contagion.
Evilometer: 666/666