BLUT AUS NORD / P.H.O.B.O.S. – TRIUNITY LP (Debemur Morti Productions)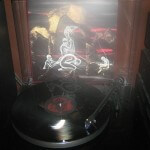 This all-French collaboration is hardly surprising seeing as P.H.O.B.O.S. released his debut album, 'Tectonics' on the now-defunct Appease Me Records imprint, which was operated by none other than Blut Aus Nord mastermind Vindsval. Nineteen years later, the duo unleash a new joint venture called 'Triunity', with the increasingly-eclectic Debemur Morti this time acting as broker to the masses.
This one comprises three tracks from each act and a combined running time of just over 40 minutes. The Blut Aus Nord offerings on Side A are typically intriguing cuts of restrained, stargazing, industrial Black Metal, while P.H.O.B.O.S.'s cosmic, celestial, industrial doom is equally (inter)stellar and serves as the ideal counterpoint / accompaniment.
In tone, vision and overall execution, the two bands complement each other beautifully, like a planet and a moon might; or life and death.
The record comes within a splendid gatefold jacket and the release as a whole is of the highest quality.
Evilometer: 666/666