CULTUM INTERITUM – VENERATION OF THE NEW DAWN (Godz Ov War Productions)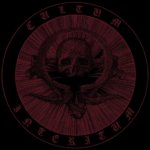 Despite the wondrous nature of debut full-length, 'Poison Of Being', Cultum Interitum remains very much embedded in the deepest trenches of the underground, untouched and untainted by any blight of hype or acclaim – certainly not an act I've noticed referenced anywhere. Second full-length, 'Veneration Of The New Dawn', was created by the duo of E and K.M. – the latter of whom appears to have since left the fold – and represents another impressive outburst of disgustingly corrosive black energy.
This one is divided into six movements ('Veneration I' – 'Veneration VI') and rumbles threateningly, ferociously, nihilistically with ominous intent for almost 32 minutes in total. Again, the harsh, inhuman vocals are imbued with pain, suffering, defiance and resistance, while the swirling, malevolent musicianship is of the highest and sickest calibre – twisted death worship summoned from beyond this mortal plane to embrace and celebrate the existential terror that lurks at the heart of all.
One of the aspects of Cultum Interitum that impresses me most is their ability to create truly harrowing and disturbing soundscapes, loaded with might and powerful enough to flatten and crush not alone the senses but also mind and soul. Tortuous and suffocating, relentlessly hammering home a mantra of utter futility. It could be the soundtrack to any life or living thing – fucking useless and worthless in the greater scheme of things.
The very subtle and seamless deployment of ambient elements at the inception or climax of select venerations embellishes and further empowers the overall impact, while Cultum Interitum's ability to move through the gears renders their gloriously nightmarish invocations more refreshing and dynamic than the majority of bands churning out (predominantly sub-par) material these days. The possessed Poles seem destined to spend their days flying beneath the radar and that surely makes them something of a dark, black treasure.
Evilometer: 666/666