DIE KUNST DER FINSTERNIS – REVENANT IN A PHANTOM WORLD (QUEEN OF OWLS ADDENDUM) LP (Lamech Records / Amor Fati Productions)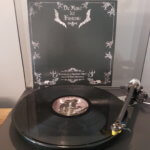 Admittedly one of the most atypical albums in my collection, Die Kunst Der Finsternis' third full-length, 'Revenant In A Phantom World (Queen Of Owls Addendum)', is an interesting and decidedly unsettling departure into the realm of gothic horror; an offering of evil, occult, decadent Black Metal, with more traditional Heavy Metal influences throughout than I would normally be comfortable with. Definitely not the sort of music I'd consider listening to on a regular basis.
The mitigating circumstance that captured my attention: Kæffel – the driving force behind this obscure one-man act – is an alias for Frater D from the excellent Chilean, Luciferian horde Hetroertzen. The first thing that strikes me about 'Revenant In A Phantom World' – the most personal of journeys through labyrinths of Horror Black Metal – is how competent the ghoulish Kæffel is at not just writing memorable songs but also at manipulating expertly a vast range of instruments. It's actually hard to believe this is the work of one man.
From the splendour of the eerie organ to the versatile, vampiric voices, deliriously decadent and delightful drumming complemented by sombre, majestic guitar playing, all liberated by an outstanding production, this is a recording guaranteed to impress. As already stated, the vibe is a distinctly gothic one, carnivalesque and phantasmal, the macabre poetry reproduced in the accompanying booklet evoking visions of encircling bats and nightmarish cathedrals, haunted castles and dubious demise, foggy funerals and shadowy shape-shifting undertakers in colourless times gone by.
Evilometer: 555/666