CELESTIAL BLOODSHED – CURSED, SCARRED AND FOREVER POSSESSED LP (Debemur Morti / Terratur Possessions)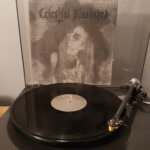 Exactly eleven years on from the tragic, untimely demise of peerless Celestial Bloodshed frontman Steingrim Torson, I find myself revisiting the band's debut LP and only full-length proper – the aptly-titled 'Cursed, Scarred And Forever Possessed', which I still regard today as one of the finest records ever to have emerged in the veritable Black Metal hotbed that is Trondheim, Norway (follow-up 'Ω' was a posthumous release, which surfaced some four years after the vocalist's unfortunate death.)
Following an ominous chain-clanging intro, we are treated to just over half an hour of prime, trailblazing Nidrosian Black Metal – raw, harsh, evil as hell itself, ritualistic in overwhelming doses and so authentic you can smell the candles burning on the ceremonial altar as blood is spilled and the sacrifice is completed.
In conjunction with blood brothers Mare and Kaosritual (soon to be Dark Sonority), Celestial Bloodshed were creating music for the ages, legendary Satanic Black Metal emissions that will go down in history as ground-breaking, hell-raising and reinvigorating. Though vicious and violent and primitive too, the hymns on this album are also eerily atmospheric and melancholy, the whole experience invoking unease and dread, which is how every human being deserves to feel.
This poignant trip down memory lane has reinforced my long-held belief that 'Cursed, Scarred And Forever Possessed' – with its iconic front cover and timeless terror – belongs on the upper tier of Black Metal releases to come out of Norway, Mehimoloth's diabolic, inhuman vocals complemented by the guitar playing of a young Luctus, better known today for his exploits in Darvaza, Behexen, Ritual Death, One Tail, One Head and of course all the aforementioned Trondheim troupes.
Evilometer: 666/666