TURIA – DEGEN VAN LICHT LP (Eisenwald)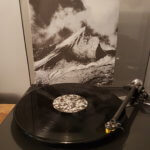 Unleashed in February, just before the fucking lights went out, Turia's third full-length (all three having materialised within the course of a prolific, inspired five-year period) is another infectious consignment of minimalist, atmospheric Black Metal majesty from the lowlands. Comprising a couple of fleeting mood-setting/-retaining instrumentals alongside five lengthy and lingering contributions, 'Degen Van Licht' consolidates the adroit Dutch trio's status as one of the most invigorating underground entities to emerge in Europe in recent times.
The album title translates as Sword Of Light (I thought it might be the name of the latest centre half to come through the famed Ajax FC youth academy) but in truth there's little light to be found herein, only darkness and desolation. A strong feeling of despair, dejection, isolation and anguish permeates every note, the band's preferred stripped-back and understated approach adding to the overall sense of hopelessness.
It takes incredible skill to conjure memorable compositions using the less is more methodology but Turia possess that rare ability to summon mesmeric odes from relatively scant input, those ghastly, horrific banshee-like shrieks of dread merging with the somewhat jangly, emotive guitar and disciplined drums to convey music that sounds straightforward, bordering on simplistic, but is conversely imbued with a genuine touch of class.
Everything comes across as seamless, spontaneous, improvised, organic and natural, giving the impression that perhaps little or no thought went into creating this record. But art doesn't work like that. 'Degen Van Licht' is skilfully crafted and delivered, a passionate, personal and poignant expression of singular, melancholic Black Metal that should be devoured by those who appreciate acts like Ash Borer, Vilkacis and Turia's compatriots Fluisteraars.
Evilometer: 555/666