FÖRGJORD – LAULU KUOLEMASTA (Werewolf Records)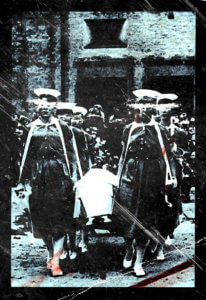 Returning to Black Metal's glorious, never-to-be-forgotten roots, 'Laulu Kuolemasta' is the sixh full-length from Förgjord, tying in nicely with the Finnish Satanists' 25th-anniversary in existence as a possessed entity. Following hot on the hoof-prints of last year's 'Ilmestykset', this latest effort from the suddenly-prolific trio represents an exhibition of wonderfully-crafted atmospheric Black Metal that's also relatively raw and obscure, the riffs thin, distant and unenhanced, the vocals rasping and croaking from the corner of an ancient cabin, the drums akin to chains and clubs hammered off a closed casket.
Everything is stripped back to capture that arcane, cold Black Metal vibe of yesteryear and Förgjord have most certainly succeeded in achieving what they set out to achieve because 'Laulu Kuolemasta' is not only of another year / decade / century / millennium but also haunting, chilling and uplifting – indeed, one of those recordings that could take years off you as, following three quarters of an hour in its company, it could be the early 1990s again. Remember when it genuinely felt like Black Metal was being recorded by otherworldly woodland inhabitants who crept out from their lairs sporadically to burn down a church?
Though crudely conceived, it's not the most lo-fi, noisy album you're going to encounter this year. To the contrary, the keenest sense of melody backbones the entire album. And, while 'Laulu Kuolemasta' starts impressively, it's the fourth track, 'Kostonhetki', which really made me sit back and take notice for the first time – a ghostly, ghastly expression of dark-heartedness and nastiness.
From there, we are escorted by Förgjord on a diverse and ambitious journey, seven-minute 'Kylmyys' for example shapeshifting seamlessly from a punky start to crepuscular creepiness leading into the spooky, ambience of the brief interlude 'Polkuni Päässä' before we are treated to almost-tribal, ambient Black Metal murk in the vein of Funereal Moon on the short but satisfying 'Kaksi Kiveä'.
There's a lot going on throughout 'Laulu Kuolemasta', which I regard as a surprisingly-varied offering of obscure and enjoyable, wholly natural Scandinavian Black Metal mined from the past.
Evilometer: 555/666