IRAE – DANGEROVZ MAGICK ZPELLS FROM THE MESZIAH OF DEATH (Signal Rex)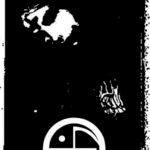 Something of an outlier or oddity in the vast Irae discography, 'Dangerovz Magick Zpells From The Mesziah Of Death' presents almost 33 minutes of irregular and unusual bloodthirsty yet enchantingly atmospheric Black Metal. The EP is divided into four parts, wherein Vulturius has invented his own language to tell the fictitious tale of a wizard who sold his soul to supernatural forces in order to achieve control of the world.
Irae is of course an institution within the Portuguese Black Metal underground and also a law unto itself in that it blazes trails and sets trends rather than following them. So no surprise that this release isn't a natural follow on from last year's magnificent full-length, 'Lurking In The Depths'. It's more like a raw rehearsal delivered with carefree wild abandonment, perhaps recorded live in one take in a grime-smeared garage, who knows?…
Howls of anguish and despair curl through the speakers, wretched melodies careering across the delirious cacophony, the guitars almost jangling mockingly on Part II. Part III represents a genuine shot across the bows, however – a curveball with lush ambient / depressive atmospherics accompanied by lycanthropic shrieks and howls … intoxicated and possessed necromancy, like a bubbling cauldron boiling over and spreading its noxious contents everywhere. Reminds me of some other band but I can't put my finger on it…
There's no sterile, triggered, digital or processed Black Metal to be found here. 'Dangerovz Magick Zpells From The Mesziah Of Death' is raw and immediate, manic and crazed and always with an improvised feel. Embellished by the frequent use of spooky keys, Irae brings forth some obscure, raw and weird Black Metal that's unique and bizarre and most definitely authentic.
Evilometer: 555/666