IRAE / WØMB / ORDEM SÂTANICA – EXPURGAÇÃO DA IRA PELO VENTRE DE SATANÁS LP (Signal Rex)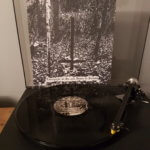 Satan has triumphed and the four horsemen have ushered in a new era of darkness. In an otherwise abandoned former tavern on the outskirts of nothingness, in what was once the most western tip of mainland Europe, a bedraggled horde of dried-up, undying corpses channel from their broken instruments the diseased music of the dead, a dissonant, dusty soundtrack to the end of times. This drunken choir of the damned, rag and bone men literally – composed of raggy flesh and exposed bones – rip through three cursed profanations in honour of eternal death.
It's truly diabolical stuff – and that's just the Ordem Satânica contribution to this filthy, decrepit split LP, featured on Side B!
Originally released on limited cassette in 2015, 'Expurgação Da Ira Pelo Ventre De Satanás' brings together an unholy Iberian trinity from the deepest depths of the Black Metal underground and it's the sort of chaotic, uncompromising noisy blasphemy we've come to expect from Signal Rex.
Previously unknown to me, Wømb kick proceedings off with 'Ascensão I: Com Toda A Glória De Sua Queda' – a frenzied, almost punk-infused onslaught that sets the scene perfectly for 33 minutes of complete debauchery. Each band contributes three raw contemptuous celebrations of misery and decay, their adversarial sermons conjured using the most basic equipment and techniques.
It's just pure fucking chaos really – certainly the antidote to the safe and dubious and easy-listening Black Metal with shiny production that's becoming increasingly commonplace these days. One of the most important forces in the Portuguese underground, Irae erupt with Christ-crushing intent on 'Balas Do Anticristo' and Vulturius duly leaves three scathing, scorching offerings at the sacrificial altar. Obliterated, flagellated, defrocked, Jesus won't be coming back from this.
Evilometer: 666/666