IRKALLIAN ORACLE – APOLLYON 2LP (Nuclear War Now!)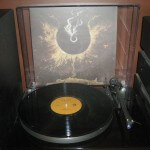 'Grave Ekstasis' was a stunning debut and Irkallian Oracle's follow-up, 'Apollyon', is utterly monumental. This time, we get 57 minutes of monolithic Black / Death(-Doom) that would serve as the ideal soundtrack to an all-consuming earthquake or slow-motion tsunami. It's the sound of a natural disaster. Lovely.
The understated, cavernous production – which mostly lets the (hypnotic, persistent) drums and vocals dominate while everything else is consigned into a gloriously murky quagmire – gives rise to a somewhat different beast than that presented on the predecessor – the result is devastating.
Apart from the nonsensical etching on Side D (I hate those), this album is immense. Listening experiences do not get more intense, more unnerving or more exhilarating. Who'd have thought that music that makes you feel like both your eardrums are perforated could be so rewarding?
Evilometer: 666/666