RITUAL CHAMBER – OBSCURATIONS (TO FEAST ON THE SERAPHIM) 2LP (Profound Lore Records)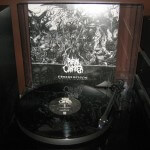 There's an hour's worth of chilling one-man Death Metal on Ritual Chamber's superb debut full-length, 'Obscurations (To Feast On The Seraphim)'. To a large degree, this is Incantation worship but it also sounds fresh and vibrant and downright pretty fucking incredible.
To think that one man conceived and executed this monolith boggles my mind and, even when it veers into relatively disjointed terrain, I can still but nod my aging head in approval. The stunning double-vinyl edition includes a gatefold jacket and lyrics. Absolutely worthy of support.
Evilometer: 666/666