KOMMODUS – KOMMODUS (Independent)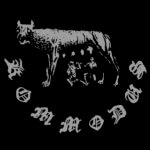 Blade sharpened, attack honed over the course of four significant demos, inimitable Australian raw Black Metal propagator Kommodus strikes with lethal intent on an accomplished and unique self-titled debut full-length. The singular vision of lone wolf Lepidus Plague. 'Kommodus' is an audacious and expansive album, easing past the 75-minute mark, ten substantial compositions housed within the now-familiar Kommodus intro and outro.
Featuring trumpet and acoustic guitar, these calmer instrumental pieces serve as unusual and interesting counterpoints to the unbridled chaos and rage displayed elsewhere on the album, Kommodus managing to inject intrigue and intelligence into his music, capturing the imagination at every juncture, the experience gleaned through the conjuration of those aforementioned demos – 'Will To Dominate All Life', 'One Thousand Years Of The Wolf', 'From The Ashes Of Empire' and 'An Imperial Sun Rises' – channelled to telling effect in the crafting of a masterful body of work.
Although this is still very much raw Black Metal, it's evident that the production is slightly improved from the demos, while the rich lyricism on 'Kommodus' is also worthy of mention, Lepidus Plague lining up Christianity and Catholicism for special attention ('Heir To The Line Of Wolves'), paying homage to Diocletian (the trademark Roman Empire themes remain intact – 'Diocletian Persecution', 'Thunderbolts Over Latium', 'Lupine Crypt Keeper'), sometimes promoting strength, others imploring deep-rooted ancient evil buried beneath the earth to rise up and take revenge against pathetic humans ('Entombed Beneath Roots And Thicket' and 'Zephyrs Blow Where Petrified Giants Slumber'), who let's face it deserve everything we get.
Staged within the battlefield, 'Where Iron And Blood Converge' gets proceedings off to a barbaric, blood-letting start, but as suggested there's more to Kommodus than swords, flame, purging, persecution and general naked hostility as songs like 'Return To Tribe' and 'Forged Between The Hammer And Anvil' are decidedly positive, promoting insight and strength. All in all, Kommodus is a complex and fascinating force.
For the time being, the album is available digitally only via Bandcamp and the digital release is surprisingly comprehensive, with lyrics and explanatory accompanying notes posted online. Physical releases will inevitably follow as the music is simply too powerful not to be afforded a proper release. And that stunning artwork – courtesy of Wrest of Leviathan – is surely destined for a gatefold vinyl cover sooner rather than later…
Evilometer: 666/666