KRYPTS – REMNANTS OF EXPANSION LP (Dark Descent Records)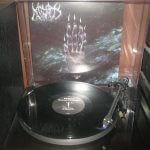 It may be only 34 minutes long (five tracks) but Krypts' second full-length sure packs one hell of a sledgehammer punch to the temple. 'Remnants Of Expansion' is one of the most punishing and addictive Death Metal albums of recent years and is worthy of multiple repeat listens.
For crushing, mid-paced Death Metal imbued with a subtle hint of crude melody, this cannot be topped.
Eleven-minute cenotaph 'Arrow of Entropy' sets the tone and Krypts' mesmerising magic just keeps reeling you in all the way through to the aptly-named epitaph, 'Transfixed'. A monumental release in every way and one that was born for the vinyl format.
Evilometer: 666/666