LVTHN – ERADICATION OF NESCIENCE LP (Fallen Empire Records / Amor Fati Productions)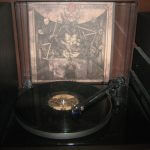 Here's one of those unashamedly retrogressive Black Metal records that just delivers exactly what a Black Metal record should deliver. Malevolent music and fiendish utterances complemented by a visual feast of captivating artwork scattered throughout the delightful booklet and sumptuous gatefold jacket.
A treat for the eyes, ears and empty pit that languishes where a soul might be if there was any such thing.
The presentation is of massive significance when it comes to vinyl editions and all the stops have been pulled out for LVTHN's full-length debut, 'Eradication Of Nescience', which looks every bit as terrific as it sounds.
Ultimately, of course, aesthetics aside, it's all about the unsettling nature of the music pressed onto the black wax, and this is a department in which the Belgian trinity excel, spewing forth a cold slab of blazing, sinister, dissonant yet clearly audible bleakness, the addictive serpentine atmosphere embellished by bouncing bass lines and ancient, clandestine textures.
Welcome to the party.
Evilometer: 666/666