MALÉFICES – HURLEMORT MLP (Final Agony Records)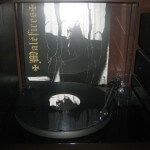 This one is only for the insatiable completists and blind Maléfices fanatics out there, of which I am evidently not one, even though I love all three of the infamous demos. While I do enjoy this record on its merits, it isn't as impressive as this or this or this. Ultimately, I am underwhelmed.
The 'Hurlemort' MLP / EP is essentially a live recording of a rehearsal that was captured in one day last year as part of preparations for a live gig. While Serpenoire is the lone driving force behind Maléfices, he obviously used a full band here …  and that is more or less the sole selling point.
The assumption I made when artist and label deemed that this recording was worthy of a vinyl release was that something magical must have happened during the rehearsal that day; an amazing alchemy that gave rise to an extraordinary 24 minutes of music. This isn't necessarily the case, however.
'Hurlemort' – though impressive – is also rather ordinary in the heel of the hunt, like a decent but hardly essential recording of a live concert that nobody attended. Honestly, for €20 plus shipping, it is not worthy of the price of admission (having said that, it will probably be worth €1,000,000 in ten years and perhaps that's the real attraction of these releases…).
All of Maléfices' previous offerings are superior; to my untrained ear, this one is a bit of a cash grab. Good, but my money was better.
Evilometer: 333/666