NAÐRA – ALLIR VEGIR TIL GLÖTUNAR LP (Fallen Empire Records)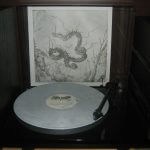 It's been almost a year already since I acquired Naðra's debut full-length, 'Allir Vegir Til Glötunar', but I've been listening to it quite a bit recently seeing as I'm going to be catching the band live next month.
Sharing members with Carpe Noctem, Mannveira, Martröð, Skáphe and Misþyrming, Naðra is a typically proficient and superb Icelandic Black Metal act, blazing through five odes here in just shy of 39 minutes.
This is certainly less obscure-sounding and more straightforward, traditional and grandiose than the above-mentioned bands but nonetheless represents a very solid dose of soaring, inflamed majesty from a young combo worthy of support. Masterful in so, so many respects.
Evilometer: 555/666