PHOBOCOSM – BRINGER OF DROUGHT LP (Dark Descent Records)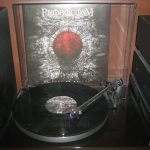 Phobocosm's second full-length, 'Bringer Of Drought', sees them drop gear somewhat to emit four harrowing, ominous slabs totaling 35 minutes. Slow, doomy passages add to the sense of crushing haplessness as the earth swallows us whole, venting its fury through quakes and floods, turning all to dust.
Twelve inches of black wax inside a gatefold sleeve somehow survive to tell the tale of nature's retribution.
Evilometer: 555/666