RIDE FOR REVENGE / BELOW – RIDE FOR REVENGE / BELOW LP (Final Agony Records)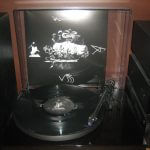 As we have by now come to expect, Ride For Revenge's 20-minute contribution, 'Lust Fuck For Torment', is exceptional. These guys can simply do no wrong. On Side B, Below chips in with four tracks of suitably harrowing, unnerving madness to complete a superb split album that belongs in every collection.
Another triumph for the festered underground.
Evilometer: 666/666