QRIXKUOR – POISON PALINOPSIA (Dark Descent Records / Invictus Productions)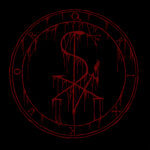 A statement that surely nobody could disagree with: Qrixkuor's debut full-length has been more than worth the wait. In many ways, this album has left me speechless, struggling to find the superlatives to do it justice and also at a loss as to how to most accurately describe the magic being weaved. In the end, I'll settle for asserting that 'Poison Palinopsia' is indescribably good! Painstakingly and ambitiously crafted with the keenest attention to the smallest detail – like a Death Metal equivalent of the Rebirth of Nefast debut, perhaps, this is quite simply a masterful demonstration of suffocating, otherworldly, hallucinogenic Death Metal dissonance, meticulously constructed to erupt into essence like the most soul-destroying, reality-warping nightmare.
Five years on from the stunning 'Three Devils Dance' MLP – and with guitarist / vocalist and composer extraordinaire S now spearheading an all-new, ultra-talented line-up (featuring none other than the inimitable VK of Vassafor and Temple Nightside on bass duties and DBH from Grave Miasma on drums) – Qrixkuor realises its full potential by delivering a recording that deserves to be remembered as a classic release not just within the claustrophobic realms of occult, labyrinthine Death Metal.
Tortured, tormented, contorted abhorrence has never sounded so essential. Making the album even more monstrous and difficult to digest than a standard, run-of-the-mill attempt at frenzied impenetrable sonic chaos is the fact that 'Poison Palinopsia' comprises just two songs – each a gargantuan, hulking, overwhelmingly-intricate and -absorbing affair that eases past the 24-minute mark.  'Serpentine Susurrus – Mother's Abomination' is a stylish, sophisticated but devastatingly-ferocious arrangement of abyssal, almost-intangible Death Metal of the highest calibre. Utterly unhinged and barely accessible, it screams from the void and drags the listener down, all-consuming and in many respects inhuman(e).
There's so much going on simultaneously – and often pulling attention in opposing directions – that it's impossible to take it all in. 'Recrudescent Malevolence – Mother's Illumination' continues in the same vein as its predecessor, flitting and arcing through the offended ether, another cacophonous outburst of demented, jarring death, contemptuously laying everything to waste. From start to finish, the punishing intensity of 'Poison Palinopsia' is little short of astonishing and, while the minimal inclusion of dramatic, orchestral, more-palatable passages does offer some respite, the Qrixkuor attack is relentlessly pummelling for the most part.
I can't even begin to imagine the effort and genius that most have gone into creating such a complex and swirling vortex of glorious violence. Perhaps the greatest achievement of this truly stellar, equally exquisite and terrifying work of art is that – despite the obvious technical prowess required to pull it all together / apart – 'Poison Palinopsia' somehow manages to retain an organic, spontaneous quality. It is almost like a living / dying thing, on a journey of its own. Or myriad illogical journeys all at once, each of them towards a downward destination where there is neither light nor reason, just terror and tumult.
Evilometer: 666/666