SINMARA – HVÍSL STJARNANNA LP (Ván Records)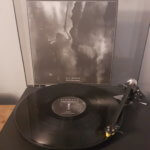 It's not far off two years ago to the day that Sinmara delivered their devastatingly apocalyptic and dark-as-soot sophomore full-length, 'Hvísl Stjarnanna'. The monstrous 'Aphotic Womb' (not to mention the superb 'Within The Weaves Of Infinity' MLP) was always going to be a tough act to follow but the Reykjavíkian rabble came up trumps, producing another stellar record which, rather than being a replica of the debut, expanded and elaborated upon it.
A mesmerising tattoo of intricate drumming ushers in 'Apparitions' and before long Sinmara's complex, dissonant, meandering majesty is working its magic, dark, ominous shards of mystique arcing this way and that, nothing quite as it seems, multiple twists and turns snaking forth fitfully in a frenzy of controlled chaos, taking the listener this way, then that, brief moments of lush Icelandic grandeur offering breathing space in the mazy mire of transcendence.
It's a given that the musicianship is top notch, as is the production – all the stars aligned perfectly here to enable Sinmara to build upon the legacy secured by their previous works. The lyrics are especially excellent (these guys have better English than me) and the nightmarish decadence of 'The Arteries of Withered Earth' – both lyrically and musically – is a stunning accomplishment in its own right.
As well as the record itself, the vinyl edition of this landmark release contains a sumptuous booklet and a poster, all housed within a luxurious gatefold jacket. With 'Hvísl Stjarnanna', Sinmara underlined their status as the premier practitioners of labyrinthine, dissonant Black Metal. As the vast majority of releases presenting themselves in recent times pale in comparison … the sooner we are granted a follow-up, the better.
Evilometer: 666/666