SINMARA – WITHIN THE WEAVES OF INFINITY MLP (Terratur Possessions)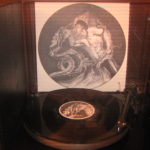 As we wait patiently and expectedly for Sinmara to unleash the follow up to their amazing 2014 opening shot, 'Aphotic Womb', the Icelandic quintet at least offered some welcome sustenance in the form of this three-song EP, which was released last summer and demonstrated once more the uncanny quality that permeates everything this band puts its ridiculously talented hands to.
If the immense, landmark full-length was a feast of swirling black dissonance and chaos, then 'Within The Weaves Of Infinity' is a mere snack to tide one over, clocking in at less than 20 minutes, yet rousing, powerful, anthemic. Less intense, dizzying and challenging than hitherto, the subtly-more-accessible, restrained and catchy Sinmara demonstrates a slightly different visage, a tweak, but coming from the same black hearts of a driven coterie of shadow-clad musicians who can simply do no wrong.
Excellent stuff again, with a great presentation (worthy of an album proper) and some interesting lyrics to try to get one's head around … just a shame there's not more of it.
Evilometer: 666/666