SVARTIÐAUDI – FLESH CATHEDRAL 2LP (Terratur Possessions / Daemon Worship Productions)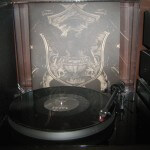 Svartidauði's 'Flesh Cathedral' ranks as one of my most eagerly-awaited vinyl releases of all time. It seemed to take an eternity to arrive in the vinyl format, but finally the grand double-record edition is upon us. And the postsnail has delivered my copy at last… Needless to say, this is an essential release and I would unconditionally advise Black Metal fans to go out and acquire same at the earliest possible opportunity.
It's been a full nine months since this spectacular debut album was unleashed on CD and I'm going to take a bold leap of faith here and assume that most of you already know all about the Icelandic magic contained herein.
In other words: here comes a(nother) very short review! For the uninitiated, suffice to say that 'Flesh Cathedral' – ferocious, menacing, eerie, infectious, supreme, unapologetically heavy – is a monumental, suffocating, claustrophobic journey, with four epic, underground Black / Death Metal anthems spread out across 56 captivating minutes that represent one of the most wholesome extreme music listening experiences you are likely to encounter. Ever.
This truly awesome album is tailor-made for the 2LP format as one track sits uncontaminated on each side and, all in all, this is one of the most magical buys you will make this year or any other. One gripe, though: the records come in a sublime gatefold sleeve but for some reason the band / labels haven't bothered to include any lyrics, which – seeing as they are already out there – would surely be more welcome than the really, really dumb poster?
Evilometer: 666/666