THE OMINOUS CIRCLE – APPALLING ASCENSION 2LP (Osmose Productions)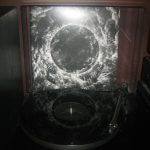 Another new band concealing their identities by covering their faces in Mgła-style masks (as if anybody actually cares who they are but, hey, the novelty has yet to wear off and it is still cool as fuck, to be fair), The Ominous Circle hail from Portugal and play dark, eerie, evil-as-fuck Death Metal along the lines of Altarage, Dead Congregation, Grave Upheaval, Irkallian Oracle and their increasing ilk (but slightly more melodic, with some solos and shit).
Debut album 'Appalling Ascension' is utterly excellent, with bundles of variety, dynamism and – most importantly – darkness. This is a really savage and moody slab of Death – two tracks on each side, 52 minutes' running time – that should appeal to fans of the new breed of Death dealers as well as the old brigade like Immolation and Incantation.
Comes in a gatefold sleeve with printed inserts featuring lyrics and looks as nasty as it sounds. I'm amazed there's not a bigger fuss being made about this band but I guess that all comes down to being on the right trendy label or something. Anyway, 'Appalling Ascension' is superb, although the last line in 'Poison Fumes' – "For I have tasted HIS worm" – would have done Finbarr Saunders himself proud.
Evilometer: 666/666