THRONEUM – OH DEATH… OH DEATH… DETERMINATE, PREACH AND LEAD US ASTRAY… (Godz ov War Productions)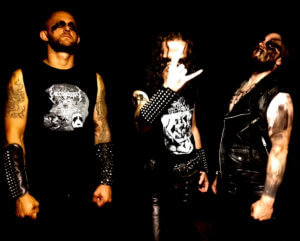 Marking two decades of death worship, Throneum's tenth full-length is upon us and 'Oh Death​.​.​. Oh Death​.​.​. Determinate, Preach And Lead Us Astray​.​.​.' fluently cements this enigmatic Polish horde's reputation for producing unorthodox, occult Death / Black(?) Metal of the highest order, ignoring trends or expectations but content instead to create music that's unique, unusual and authentic. Comprising three lengthy incantations and as many eerie, ominous instrumentals, 'Oh Death… Oh Death… Determinate, Preach And Lead Us Astray…' is ghastly and ghostly as it takes the listener on a harrowing journey to the grave and beyond, with the hollow, coffin-lid drums beating a constant, life-draining mantra and no shortage of ambitious, crepuscular soundscapes to be savoured.
A law unto itself, Throneum has been the benchmark for consistency since The Great Executor first started to put his nightmarish visions to music in 2000. Indeed, consistency is perhaps an understatement as constant improvement has been made over the years, the music honed, shaped and twisted into form, no tombstone left unturned in conveying the grim message that death is coming and nothingness awaits us all.
Opening with the wondrous, crude and multifaceted 15-minute 'Alpha:soulside-space-stream', 'Oh Death… Oh Death… Determinate, Preach And Lead Us Astray…' wastes no time in wielding its magic, immediately forcing the initiate to take notice, not only primitive and unhinged but also intriguing – musically and lyrics-wise – and captivating. The focus remains mostly on conjuring atmosphere rather than needless speed or aggression; the result an immediate and instantly-enjoyable album that will stay with you long after you've stopped listening.
Rather than interspersing them evenly between the songs (that would be too predictable), the first two calming instrumentals – encouraging and facilitating acceptance – precede the unnerving 'Delta:self-appointed-grandeur', another epic composition / séance, voices from beyond the grave somehow breaking through from the darkness following a flurry of hammering, pummelling necromancy. It's a truly fucked-up, haunting headtrip that showcases what's so special about Throneum – definitely one of Death Metal's most distinctive dungeon dwellers.
Evilometer: 666/666