BLOOD STRONGHOLD – SPECTRES OF BLOODSHED (Nebular Carcoma Records / Satanik Requiem)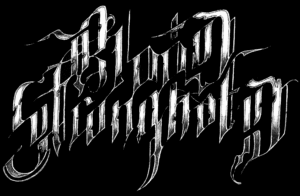 'Spectres Of Bloodshed' is the third full-length from pan-continental duo Blood Stronghold, the vision of Runespell and Eternum mastermind Nightwolf and his Polish partner in ancient, atmospheric Black Metal crime, Krew, who is involved in a veritable multitude of bands, including Necrostrigis and Ravenmoon Sanctuary. Nebular Carcoma and Satanik Requiem have joined forces for the vinyl edition of this album, the music deeply rooted in the past, imbued with a spectacular, distant sound, filled with emotion, longing and mourning, like the last three decades were just a terrible dream.
The charm and power of 'Spectres Of Bloodshed' is infectious, the songs washing over you and filling your mind with strength. Ties to our past need not be severed completely. There's very little – if any – aggression to be found across the seven offerings presented hereon, proceedings remaining rather subdued and predominantly mid-paced throughout the 42 minutes' duration, the highlights of which are the eight-minutes epics, 'Forests Dark Eyes' and 'Sunder', odes which confidently display Blood Stronghold's appreciation of melody and soaring atmosphere.

Without ever over-elaborating, these simple but memorable tunes have the ability to work their way into your subconscious. All of which goes to prove that once you have mastered the art of skilled songwriting, then you don't need to get too technical or complicated. Distinctly by and of the underground, 'Spectres Of Bloodshed' should appeal to anybody who enjoys atmospheric or pagan Black Metal designed to provoke feelings of pride and yearning.
Evilometer: 555/666