THY DARKENED SHADE / AMESTIGON / INCONCESSUS LUX LUCIS / SHAARIMOTH – SAMAELILITH: A CONJUNCTION OF THE FIREBORN 2LP (World Terror Committee)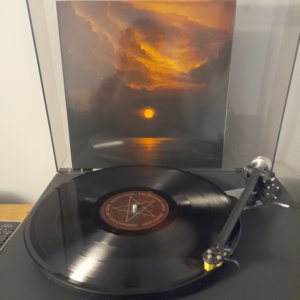 The cursed history of Black Metal is embellished with many outstanding examples of exceptional splits and the immense four-way collaboration that is 'SamaeLilith: A Conjunction of the Fireborn' could very well be the finest of them all. Featuring the adversarial left-hand-path wanderings of Thy Darkened Shade, Amestigon, Inconcessus Lux Lucis and Shaarimoth – each of whom contributes close to an album's worth of original material – this truly is a split / collaboration like no other.
The fact that each act was prepared to invest so much quality material to this ambitious and successful project speaks for itself. The buy-in from all stakeholders is clear to see and hear, culminating in a masterful materialisation that comes into its own in the glorious vinyl format (although I would recommend acquiring this one on CD or digital format either as 'SamaeLilith: A Conjunction of the Fireborn' is an illumination of Luciferian light that deserves to be absorbed however one likes).
All guided by the same hand, the four hordes are afforded one side of a record apiece and the double-vinyl comes housed in a gatefold jacket, with a fantastic full-sized insert dedicated to each contributor, including lyrics, artwork and detailed information on the recording sessions. No stone has been left unturned in delivering as much visual accompaniment as possible to the sonic maelstrom.
Which brings me to the most important aspect of 'SamaeLilith: A Conjunction of the Fireborn' – the music itself, which is utterly stellar. Long-time adepts of the split format, Thy Darkened Shade get proceedings up and running with four tracks [23 minutes] of majestic, anti-cosmic, occult Black Metal, culminating in the magnificent sacrilegious incantation 'Return of the Ancient Ones' – a corrupt invocation conjured in the cathedral of the damned that perfectly captures the blackened heart and profane intent of this unholy union. This album is worth hunting down for TDS's contribution alone, but there is much, much more to come…
As we flip the first record over and get immersed into the three wondrous Amestigon donations to the ritual [clocking in at 25 minutes], the surreal and almost frightening scope and scale of what has been accomplished on 'SamaeLilith: A Conjunction of the Fireborn' reveals itself more conspicuously. With strong echoes of Armagedda, 'The Slant Serpent' is all at once haunting, malign yet glorious – a suitable opening to an elevated trinity of transgressions that could well represent the zenith to date of the Austrians' discography.
This is elite Black Metal, dedicated to Him / Them, with the emphasis very much on 'black' and I find myself marvelling once more at the conviction and dedication of the crooked quartet to the overall concept. Amestigon bring cursed possession to the altar, a rousing ejaculation of decadence that stands apart from the other three yet paradoxically fits immaculately with the parallel creations of their anointed-in-sin acolytes. TDS mastermind Semjaza is involved behind the scenes and also performed two of the three instrumentals on Inconcessus Lux Lucis' material – is he the blackened glue that binds this all together?
True to form, Inconcessus Lux Lucis also makes an excellent contribution. On Side C we have five offerings – two songs proper with an instrumental intro, interlude and outro. While ILL are more direct, raging and thrashing than their partners in crime, the evil never abates and there is no deviation from the innate feeling of darkness, that we are being consumed by the rites of a depraved back mass and this is the soundtrack to our inevitable dissolution into the void. Strange and uncanny how bands with unique and almost disparate sounds when conjoined by a common theme can conjure subtly different shades of the same pitch black essence.
Vitally, each side of 'SamaeLilith: A Conjunction of the Fireborn' works either on its own or as part of the whole. There is no weak link here and that's why this compendium stands out from the oftentimes disheartening rabble. Okay, there is a lot to get your teeth into and your head around. Who is 2022 has 90 minutes to spare to sit down and listen to an album? Make the time and you will be richly rewarded. What the fuck else of value is going on in this stupid world?
Maintaining the ridiculously high quality that prevails throughout, Shaarimoth have the honour of closing out 'SamaeLilith' and they do so in considerable style, crafting three epic compositions of expansive, ethereal, spacious and progressive (in a good way) Black / Death Metal encroaching upon the half-hour mark. Shaarimoth's intense invocation floods together into one vast self-contained piece 'From the Gates of Death… …Flows the Blood of Retribution ..And Salvation Everlasting', bringing this sprawling, breathing masterpiece to a fittingly obscure, intangible and intriguing climax.
Fair to say that 'SamaeLilith: A Conjunction of the Fireborn' equals way more than the sum of its individual parts. There is so much going on here, it's impossible to know where to start. Or finish.
Evilometer: 666/666