BLACK CURSE – ENDLESS WOUND LP (Sepulchral Voice Records)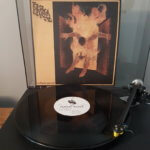 Black Curse's debut full-length is an unmercifully violent onslaught of punishing extremity, where chaos and utter savagery are accompanied by multiple tempo and mood changes throughout to render the record as infectious and memorable as it is crushing. From the moment 'Charnel Rift' rips through the speakers, flaying the air contemptuously, it is obvious that 'Endless Wound' is going to be something very special indeed.
Merging the odious evil of the foulest old school Death Metal with the barbaric nihilism of Black Metal to produce a rolling, roiling, scorching maelstrom of hostility and negativity, Black Curse move in with malicious intent and uncanny adeptness to lay claim to the throne of hybrid heroes Teitanblood, with genuine, unhinged evil and decay permeating every wondrous, depraved utterance, vengeful riffs battling one another for supremacy in the storm, inhuman growls, shrieks and sickened gargles ensuring that a sense of dread pervades the senses, the monstrous, mottled, deviating rhythm section lending to proceedings an elaborate, eerie dynamism that is all too often absent from extreme music.
Although the closing shots, 'Endless Wound' and 'Finality I Behold', are particularly glorious, each of the seven offerings on 'Endless Wound' is a thing of greatness in its own right, the pungent, repulsive fruits of Black Curse's dedicated toil over the course of a painstaking five-year fermentation period evident for all to hear. Whether shredding remorselessly with absolute abandon or adapting a more nuanced, premeditated, hypnotising approach (often both strategies appear within one song), Black Curse possess a rare ability to infuse unease and anxiety into each twist and turn, a nightmare breaking out at every juncture, the spoils of a fragmented, disjointed psyche.
The frenzied emanations have more in common with some of the fiercest entities cross-pollinating Death Metal and Black Metal or the Vrasubatlat collective than any of the other bands Black Curse's members are associated with (Blood Incantation, Spectral Voice, Khemmis, Primitive Man…), resulting in a truly immersive 38-minute journey that I find myself taking over and over again. This is a sensational record – ugly, unnerving and reaffirming.
Evilometer: 666/666